ErfGoedFloor Premium
The ErfGoedFloor Premium is a unique cultivation floor with a number of special features:
Dry surface
Large water buffer capacity
Closed system
Durable
Stable
A clean, robust and dry floor. Even after watering. That's important for any grower. ErfGoedFloor Premium delivers these benefits thanks to the porous layer, the drainage system and the good permeability of the floor cloth. All the water is drained away so that no puddles are left behind, preventing the spread of plant diseases and ensuring that plants develop strong and sturdy roots.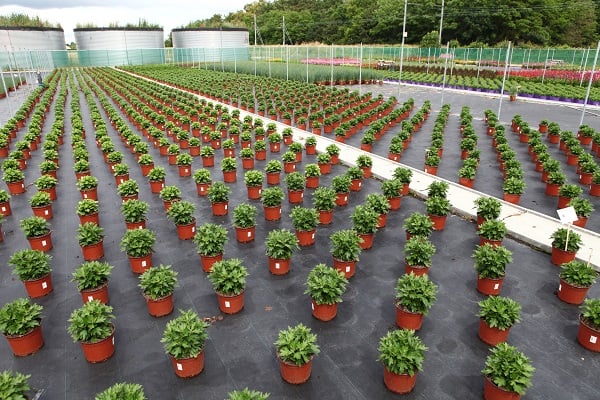 Outside floor
Rainwater is captured immediately by the buffer in the case of an outside floor. The ErfGoedFloor Premium has a capacity of up to 40,000 litres per hectare! The water can be pumped out gradually to the surface water or to the basin. In that way, our cultivation floor provides perfect water storage and allows for controlled drainage.
Flexibility
The cultivation floor is easy to combine with other forms of automation such as trolleys, forklifts, conveyors, robots etc.
The uniform water drainage means that the ErfGoedFloor Premium is suitable for many types of crop. That also means that complex calculations with pot sizes and distances are unnecessary, making cultivation on this floor extremely flexible. Plants can be positioned and spaced extremely efficiently. And that saves a lot of work.
Maximize yields
The ErfGoedFloor Excellent is, like all ErfGoed cultivation floors, a completely closed system. Water and fertilisers are therefore captured, allowing them to be reused, resulting in significant cost savings. The same applies to energy consumption. The climate-control options of this cultivation floor cut energy costs substantially.
Uniform, vigorous and healthy plants grow on the ErfGoedFloor Premium. The loss percentage is minimal and plant uniformity saves a lot of selection work during harvesting. So you obtain more plants with less work: a direct increase in your yield!
Durable
The ErfGoedVloer Premium is a very durable and future-proof growing solution that will make work enjoyable for many years to come, maximising the return on your investment.
We will be happy to tell you how to improve your crops with the ErfGoedFloor Premium. Feel free to contact Peter Vos or Jack Ford (for USA).