The best growing system for your crop
The ErfGoedFloor is the best growing system for your crop. Whether you work in ornamentals or vegetables, breeding, propagation or production, work on our floor is enjoyable and carefree. Hundreds of growers in more than 25 countries have already gone before you.
Only the best is good enough. The components of our cultivation floor and the water system are built to an demanding standards and they are highly dependable. Our grey floor cloth, for example, is extremely strong and UV-resistant, with high water permeability. ErfGoed has a patent on most components and so our solution is unique. Opting for the ErfGoedFloor means opting for a top-class floor with the highest return.
The ErfGoedFloor is available in three versions: Excellent, Premium and Basic. Each version can be fitted out with a range of options.
Premium and Excellent – vertical drainage
The difference between Premium/Excellent and Basic is that they have a vertical drainage system. There is a porous layer under the floor cloth so that water is always drained away downwards immediately. The absorption effect of both these cultivation floors is unique.
The uniform growth and the automation possibilities allow you to harvest faster with these cultivation floors. You do not need to take planting distances and pot sizes into consideration. In that way, you can make optimal use of the cultivation floor.
The main difference between the Premium and the Excellent floors is the ebb and flow system.
The ErfGoedFloor Excellent
This cultivation floor is the ideal subsurface for every crop. The floor consists of a layer of porous stone that can be filled with water. Once the layer is full, the water rises everywhere at once. In that way, all plants get the same amount of water at the same time, resulting in a uniform crop.
The benefits at a glance:
Even watering
Dry and clean floor
Cooling function
Labour savings through automation
Division into compartments
Stable/strong/suitable for wheeled transport
Vigorous crops
More about the ErfGoedFloor Excellent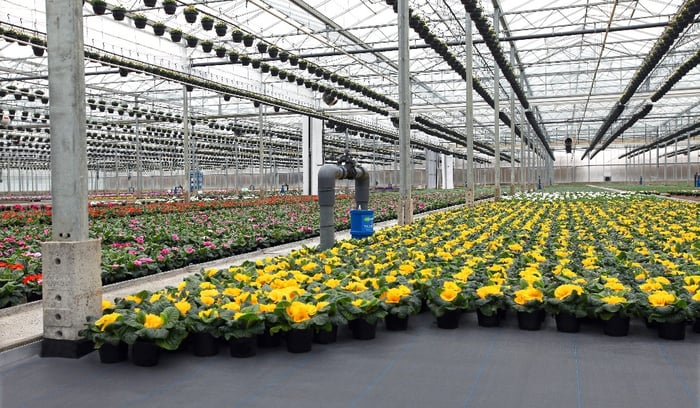 The ErfGoedFloor Premium
A clean, robust and dry floor for inside and outside. The porous layer, the drainage system and the multi-permeable floor cloth drain off all the water, leaving no puddles behind and preventing the spread of plant diseases This system also ensures that plants develop strong and sturdy roots.
Rainwater is captured immediately by the buffer in the case of an outside floor. The floor has a capacity of up to 40,000 litres per hectare!
The benefits at a glance:
Dry and clean floor
Large water buffer capacity
Closed system
Durable
Stable/strong/suitable for wheeled transport
Vigorous crops
More about the ErfGoedFloor Premium
The ErfGoedFloor Basic
This version is ideal if you grow on roller tables. The floor, like the other versions, is a completely closed system. That means you comply with all laws and regulations relating to emissions to the subsurface. Water and fertilisers are captured and reused.
The benefits at a glance:
Closed system
Insulating qualities
Dry and clean subsurface
Durable
Cost-saving
More about the ErfGoedFloor Basic